Here is my S2 Rs Turbo i have decided to sell.
Its a 1988 E reg car with all the 88'spec features still retained, interior, bumpers, spoiler!
Its mercury grey with 8 months mot and 5 months tax.
The only welding the car has had was a pair of front wings and in great condition for being 21 years old.
The interior of the car is in excellent condition and is standard with a Tim boost gauge fitted. The seats have very little wear and are solid, not the usual backside falling out them. All the electrics work inside, as does the central locking.
On the outside, the car has been lowered using G-max shock absorbers and KY springs. It still has standard wheels fitted with good tyres all round.
The car benefits from some upgrades, as follows:
-Lowered and uprated suspension.
-Puma gear linkage conversion, giving a far more postive and tighter shift change.
-All the front suspension bushes replaced for Powerflex polyurethane items.
-Front strut brace fitted.
-Escort Cosworth front brake calipers and sierra cosworth drilled discs fitted as bigger brake upgrade.
-Still has original orange indicators all round, ford spot lights, ford mud flaps, original decal, ford dealer plates and tax disc holder.
Engine bay as follows:
-Blue Samco hose kit (boost and some water).
-Chipped ECU.
-Pace double capacity intercooler.
-Full stainless steel Mongoose exhaust from the turbo to tailpipe.
- -31 Actuator.
- Uprated clutch, make unknown however do have a reciept.
-Cone filter.
-Bailey dump valve.
-Recent headgasket and timing belt as precaution.
The car was tuned at Ava in Glasgow and set-up at standard power and boost. It had its fuel metering unit re-calibrated and set up to run perfect, which it does. There is no smoke from the engine/turbo on start up or when car is running or when you change gear.
The car drives great, feels great and runs perfect all the time, starts fine in the cold and perfect when hot. It brakes well and evenly with the uprated brakes and sounds fantastic with the Mongoose exhaust. It doest leak water into the cabin or the boot and all the lights work perfectly. I also have a folder of reciepts for the car.
The car has been well looked after, recently fitted new wheel bearing, water pump, some hoses and always runs on optimax fuel which was recommend by Alan at Ava.
The fuel gauge has stopped working however i have a brand new fuel tank sender to be fitted to car, will go with car if not fitted at time of sale. The front bumper will need painted as it was knocked and burst the paint on the bumper knuckle (see pics). As you would expect with a 21 year old car there are few marks on the paint work however it is used daily and a very good, honest example of a standard, non-chavved up Escort Rs turbo.
Iam looking for £2895 ono.
The car is located in Fife, Scotland, i could meet potential buyers at Edinburgh airport or Inverkeithing train station if travelling from a distance. I dont want timewasters or test pilots turning up. Its a reluctant sale however fairly priced.
Not the best pictures, i know, however will endeavour to get better pics as soon as possible!
Any questions, just ask!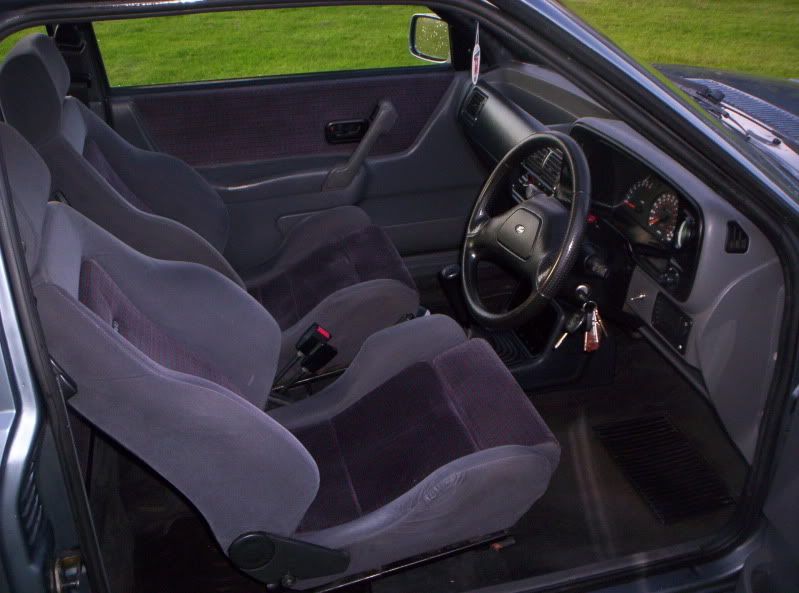 Cheers Steve